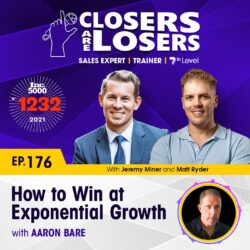 Listen to the full episode on Spotify.
Everyone wants exponential growth, whether you're an entrepreneur or a sales professional, we all desire it.
But where does exponential growth happen first?
In this episode, Aaron discusses Exponential Theory and to who it is for, how good questions lead to the truth you want to hear, the Rhodium Rule, and why limitation is first found in your mindset. There's a lot more you wouldn't want to miss in this conversation.
Tune in to this episode and take notes!
In this episode, we cover:
[0:00] Introduction
[2:13] Aaron shares about his background
[4:45] Exponential Theory and who is it for
[6:36] The Rhodium Rule
[7:22] Importance of having the right sales skill set for entrepreneurs
[15:42] Three forms of communication
[21:22] ROI vs. Likeability in sales
[22:20] Getting the influencers onboard
[25:36] Working on good crafted questions to get to the truth
[28:34] Listening is key
[30:02] Great selling is not adversarial
[33:40] Limitation is your own mindset
[37:37] Focus on the quality of conversations